5 Major Retailers Utilizing Solar Power in the U.S. Right Now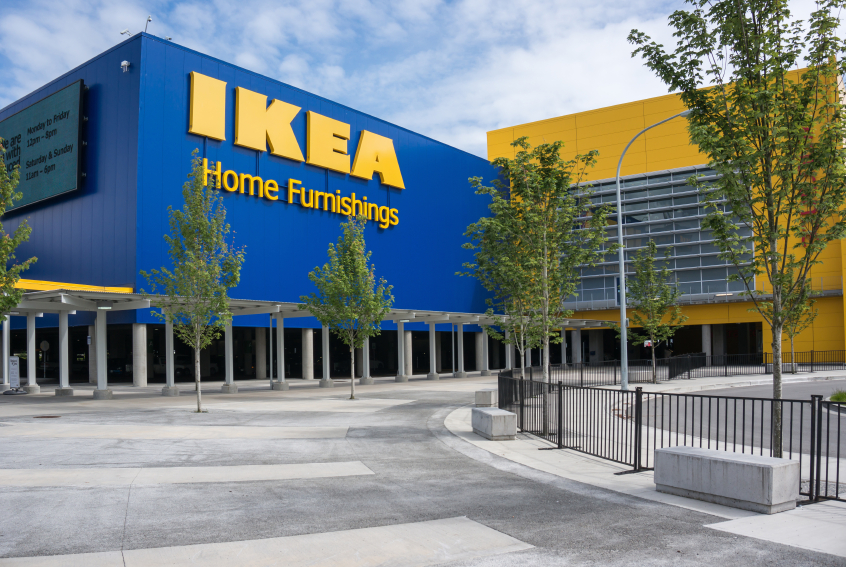 Solar energy use is booming and shows no signs of slowing down. According to the Solar Energy Industries Association (SEIA), a new solar system was activated every 1.6 minutes during the third quarter of 2015 and more than 24 gigawatts of solar electric capacity is now installed across the nation. By 2020, the nation's solar capacity is expected to reach 100 gigawatts — enough to power 5 million homes.
Corporations have long been some of the biggest proponents of solar power, and they continue to help fuel its success. That's because solar can give companies in every industry a competitive advantage by minimizing their environmental impact and reducing their energy costs. From discount department stores to grocers, here's a look at how a few companies you know are leveraging the power of the sun.
1. IKEA
Bragging Rights: Ikea has a solar presence at 90% of its U.S. locations.

With solar-powered stores in 22 states, the hip home furnishings retailer manages the most geographically expansive solar fleet in the U.S. In 2015, IKEA completed its 42nd U.S. solar project: a 259,000-square-foot solar array, installed atop its new store in St. Louis, Mo. The massive 1.28-megawatt system is the state's largest rooftop solar array. Composed of more than 4,000 panels, it can supply the store with almost 2 million kilowatt hours of electricity annually. That's the equivalent to powering 169 homes every year. To meet its goal of being energy independent by 2020, IKEA has also installed more than 700,000 solar panels world-wide.
2. Whole Foods
Bragging Rights: Whole Foods generates enough solar energy to meet 107 percent of its power use.

Whole Foods is the eighth largest food and drug store in the country and a pioneer of solar energy practices. In 2002, the company installed solar panels at its Berkeley, Calif., store and became the nation's first major food retailer to use the sun's energy as its primary lighting power source. Since then, more of its stores have followed suit. For example, Whole Foods in Brentwood, Calif., now uses solar energy for almost one-quarter of its power needs, and its Edgewater, N.J., store boasts 14,000 square feet of solar panels. The SEIA ranks the organic food grocery 15th among the nation's top 25 businesses for its number of on-site solar photovoltaic(PV) installations. In all, Whole Foods has solar energy systems at 20 locations, and the company recently announced that it will be installing rooftop solar at 100 stores and distribution centers.
3. Kohl's
Bragging Rights: Kohl's ranks sixth in the nation for its total on-site installed solar capacity.
Shopping at Kohl's is not only good for your budget, it's good for Mother Earth, too. The value-oriented department store takes an integrated approach to eco-stewardship that includes a hefty reliance on the sun's rays. Kohl's has 162 on-site solar systems in 13 states. On average, they deliver 40 percent of the store's electricity needs. The company's largest solar panel system is installed at its E-Fulfillment Center 3 in Edgewood, Md. With over 8,000 solar panels, the system produces 3 million kilowatt hours of energy every year. Kohl's collective solar efforts offset the production of more than 30,000 metric tons of carbon dioxide per year, or the equivalent of removing almost 7,000 cars from the road. Due to the company's commitment to alternative energy, the Environmental Protection Agency (EPA) named Kohl's its Green Power Partner of the Year on three occasions.
4. Johnson & Johnson
Bragging Rights: Johnson & Johnson operates one of the largest solar panel systems in New Jersey.

The Johnson & Johnson company is more than 100 years old, but its use of alternative energy is decidedly 21st century. The company's total installed solar capacity is nearly 18 megawatts, which is enough power to run about 2,700 homes annually. Johnson & Johnson's largest system is in Titusville, N.J. It includes a massive 4.1 megawatt ground-mounted system as well as two rooftop systems. Together they can supply the campus with over 85 percent of its yearly power needs. To minimize the use of traditional landscaping services and further reduce the company's environmental impact, a heard of sheep graze around the ground-mounted panels and keep vegetation trimmed naturally.
5. Walmart
Bragging Rights: Walmart has the greatest on-site installed solar capacity in the U.S.
It's no secret Walmart is the nation's largest retailer, but you might not know it's also the country's foremost consumer of solar power. With the yearly potential of generating 142 megawatts of solar energy, the discount chain ranks first on the SEIA list of U.S. companies with the greatest solar capacity. It's also recognized by the EPA's Green Power Partnership as America's largest on-site renewable energy user. More than 300 solar systems are installed at Walmart's U.S. facilities and up to 400 more systems are scheduled for installation by 2018. Walmart's long-term goal is to supply 100 percent of its power needs with renewable energy.
Clean, silent, and renewable, solar is being employed by large companies at an unprecedented rate to reduce their operating costs — and you can, too. Start by using a free solar cost calculator to estimate the potential benefit of using solar power for your home or small business.