Sunrun Company History
Headquartered in San Francisco, Sunrun started in 2007 as a venture capital-funded collaboration.
Several rounds of investment from well-known energy and financial companies grew the company to the point where it went public, raising $251 million. In the past several years, the company has acquired smaller players SnapNrack, AEE Solar and the residential solar division of REC Solar. Sunrun has announced a partnership with Tesla to incorporate their new home battery into the Sunrun's offerings in the near future.
Sunrun is now the third-largest leasing company for solar panel installations in the U.S., with more than $2 billion worth of installations, 79,000 customers and 10 percent market share. The company operates in Hawaii, California, Arizona, Nevada, Oregon, Colorado, New Hampshire, Massachusetts, Connecticut, New York, New Jersey, Pennsylvania, South Carolina, Maryland and Delaware. Sunrun maintains an A+ rating from the Better Business Bureau.
Organizational Structure
Sunrun was founded by Lynn Jurich, the company's CEO, and Ed Fenster, the company's Chairman, who met at Stanford's Graduate School of Business. Both Jurich and Fenster shared Ernst & Young's 2010 Northern California Entrepreneur of the Year Award.
Ms. Jurich serves on the Sierra Club's Board of Directors and is a founding member of its Clean Technology Council. She was named one of Fortune Magazine's 2009 Ten Most Powerful Women Entrepreneurs and one of Forbes Magazine's Top 12 Women of Cleantech in 2011. Mr. Fenster is a member of the Pew Center for Global Climate Change and is an Advisory Partner for Millennium Technology Value Partners, a premier venture capital firm.
Many of Sunrun's other executive management staff have strong energy, Internet and venture capital sector backgrounds.
Products and Services
Sunrun offers third-party-owned solar installations, whereby a homeowner does not need to make a huge upfront investment to install solar panels to power their home. Instead, Sunrun finances installation and either takes a monthly fee or sells the power generated to the consumer for a reduced cost as compared to "grid" power offered by the local electric utility. Up to 70 percent of solar power consumers now prefer this third-party-owned method of purchasing, as it lowers upfront costs enormously.
Sunrun also offers customers the option of paying for their installations upfront and owning them outright.
Sunrun's solar systems are uncomplicated and designed to last as long as 40 years. They may need monitoring and/or occasional servicing during this time, but upfront, there is only a no-fee, one-time installation. If a customer leases their system, Sunrun takes care of any monitoring and/or servicing. If the customer purchases the system, the customer is responsible for any upkeep (minus any repairs covered under the warranty).
When comparing different solar installations, customers should look at system size, making sure that it takes into account any capacity upgrades they will want or need over the lifetime of the system. Most of Sunrun's systems output between three and seven kilowatts. As with any solar installation, customers should consider:
• How much time they spend at home
• If there are parts of their roof where they don't want solar panels
• If they're planning to have children or will have children moving out of the home
• If they have plans to acquire a swimming pool, hot tub or electric vehicle that will need power (in addition to their home)
Sunrun uses a system it pioneered, called BrightPath, to install its equipment. BrightPath uses satellite imagery of a home's roof and some basic key information to select a customized system out of thousands of possibilities to optimize energy production for that home. Sunrun claims that on average its customers can save 20 percent on their power bills. In cases where an installation produces more power than the home uses, energy credits or rebates will be given by the local electric company that can be used for future power bills. This is not always the case with products and plans from competing companies.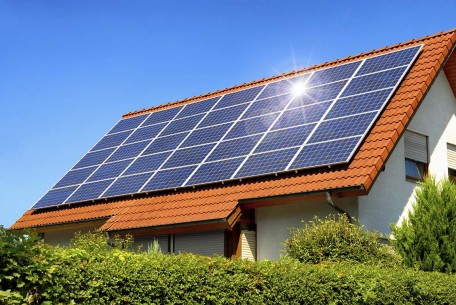 In rare cases, certain homes may not be suitable for solar installation, and Sunrun is transparentabout this. These may include homes whose roofs do not face south or west, homes where electric bills are low, homes that will need a roof replacement within the next 20 years, and homes that may be shaded by buildings or tall trees — including those from neighboring properties. Although Sunrun operates in 15 states, it may not cover all municipalities or neighborhoods within those states, so potential customers should check with the company to see if a particular area is covered.
When a customer signs up for installation, Sunrun or its local partner submits plans to the local municipality or county authorities and waits for approval. Then, it installs the necessary equipment. The municipality or county authorities then do a final inspection, which is coordinated by Sunrun or the local partner company. At this point, the electric utility will install a meter to connect the system to the local power grid, and the system can be switched on.
All of Sunrun's local partners are extensively qualified by the company and have performed a large number of installations. Sunrun regularly performs audits of homes to make sure installations meet exacting quality standards. The company discloses all of their installation partners as well as providing customer reviews for them.
Sunrun guarantees the performance of its equipment, so if the performance doesn't match what was agreed on when contracts were signed, Sunrun will rebate the difference in costs directly to customers. This is over and above industry standards for operation.
Monitoring takes place in real time and is performed by professionals, as well as being available for customers to view via a website or smart panels connected to a customer's installation. Customers can access their energy usage, energy production, bills and due dates. Competitors offer similar websites or apps, but usually, these do not feature the billing portion of Sunrun's provided information.
The company offers a free consultation and price quote to those people interested in its services. Equipment is offered via:
Leasing
Depending on where a customer lives, Sunrun offers the option of leasing solar panels whereby the customer pays nothing for the lease; the customer simply pays for the power that is produced by the kilowatt-hour, and Sunrun owns, monitors and services the equipment. This arrangement is called a Power Purchase Agreement (PPA). In areas where PPAs are not available, there is a standard lease; Sunrun can let a customer know which case applies in which area.
Whichever plan they're on, customers can either be billed monthly or pay the entire amount of the lease or PPA upfront with a prepaid option. The standard term of the lease or PPA is 20 years. When leasing, a customer should always be sure to look at the cost per kilowatt-hour to see if it includes monitoring and/or maintenance costs. Any tax incentives, tax credits, rebates and/or excess energy credits provided by the local utility company are handled by the local installation company and are passed along to the consumer. If a customer sells their home, they can transfer the lease or PPA agreement to the home's new owner.
Sunrun covers any damage or leaks caused by installation of solar equipment on a home's roof via a roof warranty.
Prepaid Option
If a customer chooses the prepaid payment option, the cost is the equivalent of 20 years of energy bills in one lump sum payment. Paying this allows a customer to save money versus making monthly payments, and this is the most beneficial plan Sunrun offers. Since the entire amount is paid upfront, there are no annual cost increases. Using the prepaid option, the equipment has a 100 percent performance guarantee.
Monthly Option
The monthly option is a plan for those customers who don't want to pay one lump-sum payment upfront. Instead, the upfront payment can be zero, or it can be what the customer chooses, depending on what they want their monthly bill to be. Billing rate increase protection is offered to those customers who choose to pay a fixed amount upfront. Using the monthly option, the equipment has a 95 percent performance guarantee.
Purchasing
For those customers who wish to purchase their equipment outright, Sunrun has two options. Customers can purchase it unconditionally using the BrightBuy option, or they can finance it via a 12-year or 20-year loan with monthly payments through the BrightAdvantage program. Costs will likely run between $18,000 and $40,000 per installation. Sunrun warranties their equipment for either 10 years or 20 years, depending on which the customer selects. Either purchasing option qualifies a customer for the maximum federal tax benefit they can receive for using solar equipment in their home.
Consumer Reviews
Sunrun is completely transparent in how it does business, and it takes a great amount of pride in its customer service. Sunrun has gotten very positive reviews from consumers. The company generally provides a clear picture of the amount of energy its systems generate. Sunrun claims satisfaction ratings on par with companies such as Amazon, Southwest Airlines and Zappos.
• Some reviews from Best Companys include:
"It was a great decision, going solar and doing it with SunRun. My system is performing better than had been presented to me. My system has been installed for 1.5 years now and I only regret not having done this sooner. The folks at SunRun are professional and a pleasure to deal with. I can't say enough about them."
—Barry Klein
"Our fourth year with SunRun. Absolutely delighted with our system. My initial worry was that it would be so complicated. Not at all! In our case, we leased the system, but by doing so we reduced our energy costs by 50 percent. Plus, it's nice to get a check from the power company each year. The environmental savings are off the charts. It also allows us go use things like an electric lawnmower instead of gas. Our next car will be electric too. Why not? We have the power!"
—Brian Olson
"The process was flawless and everything explained thoroughly even though I may have asked several times, even came back to house to explain meters until I truly understand. From beginning to end the experience was painless, all contractors involved were professional and friendly. I have recommended them to anyone who wants to go solar. I went live in April 2015 and have saved over $500 dollars so far. I can't say enough about them. Anyone wanting Solar, check around, but you will end up with Sunrun in Las Vegas NV."
—Sandra Stephens
"We put Sunrun panels on our roof through Rising Sun on Maui, HI. We had a friend that used to be in the business. He did a lot of research and referred us to Rising Sun. We chose the prepaid option and couldn't have been happier. The whole process went smooth — timing, installation, usage etc. Only wish we had done it sooner. We referred them to friends and received referral checks as promised. Due to job relocation, we had to sell our home after only 1.5 years with Sunrun, but the transfer to the new owner was quick and painless. We figured we probably received double the investment back in the sale price of our home. We were so impressed that we are in the middle of adding them to our new home on Kauai. Mahalo Rising Sun and Sunrun for your excellent partnership!"
—Natalie and Michael Chapelle
• Some reviews from Yelp include:
"My name's Ed Harrison. I am a current Sunrun solar customer. Last year, I walked into Costco in Bakersfield and saw a booth advertising solar energy for your home. The rep explained to me they could reduce my utility consumption by 25 percent at no expense to me. I said I would like to speak a little more about this, so they sent a representative to my home. A couple of weeks later, Joe Jimenez called me and stopped by to explain all the benefits of solar-driven savings and the benefits to me and my community. Joe also emphasized that no out-of-pocket cost and no future monthly increases would occur. That point really impressed me because I know how much PG&E attempts to increase fees each year. Thanks, Joe, for your professionalism and honesty in hooking me up with the best utility savings plan to keep my home lit up and cool in the summer."
—Ed Harrison
"I recently had my system installed from Sunrun and am ecstatic to say the least! I'm saving over half on my electric bills monthly and have a set rate for 20 years! The installation team did a superior job — very professional, friendly, and a clean job with all the components. I highly recommend Sunrun and stand behind my comments."
—George B.
"I love Sunrun! I signed up for a solar system last fall with Brandon Stephens and couldn't be more pleased with the whole process. Everyone I worked with at Sunrun was incredibly knowledgeable, friendly, helpful and responsive. My system was installed and has been performing beautifully. The process was so smooth and so easy. The install looks great, and I can't wait for these summer months of no-cost electric bills! I absolutely recommend Sunrun to all my friends and family! Go solar, you won't regret it!"
—Jenna S.
"My housemate (and landlord) for 5 years has a Sunrun system. We've had it since 2010, and it has saved us loads of money on the electricity, and we've never had any issues. Love it. Turning sunlight into money in our pockets and doing the right thing for the next generation. Thank you, Sunrun!"
—Matt E.