10 Companies Utilizing Solar Power That You Should Support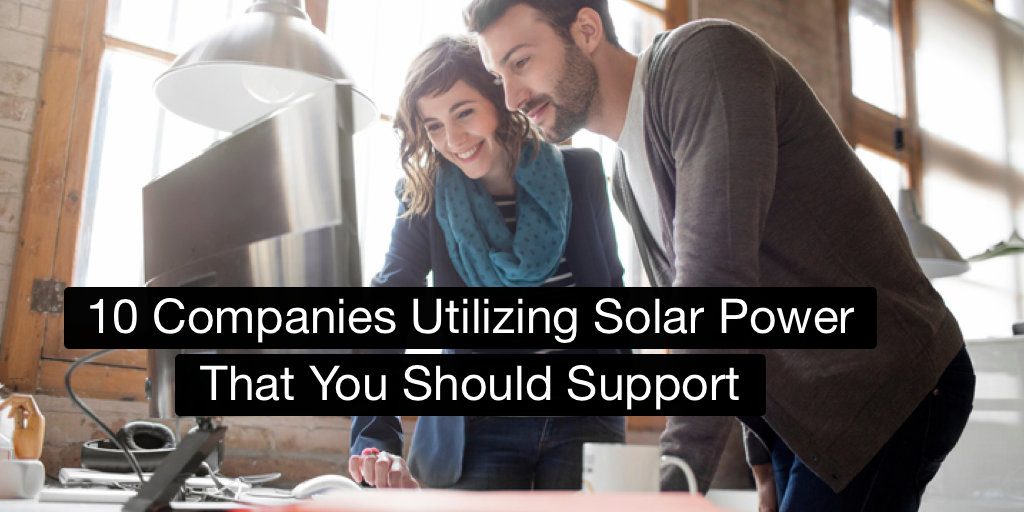 For some of the biggest corporations in the United States, solar energy is the next big thing. Solar panels help reduce a company's environmental footprint and are great for public image. They'll also pay for themselves over time in the free energy they produce. That's a great return on investment for some of the US's largest corporations—and for these multi-billion dollar investors, solar panels make smart business sense.
Commercial solar in the United States owes a lot of its growth to support from the federal government in the form of tax credits and rebates. These programs help cut the cost of solar panels and panel installation, making solar systems even more attractive as investments. The EPA's Green Power Partnership represents over 1,300 organizations that have made a commitment to voluntary renewable energy investments. While many companies install solar panels themselves on-site, all the companies on this list also purchase renewable energy credits from grid-tied solar systems across the US. The net result is the same; the solar industry grows and carbon emissions are offset, with corporations leading the way.
These companies are committed to supporting the growing renewable energy sector in the United States. You can do your part by supporting them with your business. Here are the top ten companies to watch in the solar energy sector.
1. Intel Corporation
Intel is America's renewable energy leader. They've invested enough in green power to offset 100% of its 3,429,956,843-kWh energy footprint.1 A big chunk of this comes from green power investments—Intel has been the nation's largest purchaser of green power nine years running.2
Solar power makes up a good deal of those green investments, too. In April 2017, the company completed work on the second-largest on-site solar carport array in the United States in Arizona. The array covers 3,200 parking spaces and is slated to offset the electricity equivalent of 1,000 US homes annually.3 The company also holds the title for the largest solar carport installation in the United States, thanks to an installation at its Folsom, California campus.
2. Microsoft Corporation
Microsoft is a world leader in renewable energy. The company has been recognized by the EPA, the United Nations, and the World Economic Forum for creating a carbon-neutrality model that has resulted in substantial investment in wind, solar, and other renewable energy sources. This year, it's set to offset 3,344,727,000 kWh of electricity use with power purchase agreements, renewable energy credits, and on-site installations.4
Microsoft was an early solar leader among US corporations; it installed 480 kW of solar panels on its flagship campus in the Silicon Valley in 2006.5 Now, Microsoft president Brad Smith has committed the company to increasing its solar infrastructure for data centers across the United States, making an investment in Microsoft's business a net positive for the solar industry as well.
3. Google
It could be argued that Google has had a bigger impact on the US solar market than any other company on this list. Because while the company's 1,763,588,904-kWh investment in green energy isn't the highest in the nation,6 Google's benefit to the solar industry in the US has a further reach in the virtual arena.
Plenty of solar installers in the United States use Google Maps and the Google Earth project to remotely quote customers on their homes' potential for solar panels. These tools have saved installers time, energy, and money by streamlining the quote process. Google SketchUp is used by many solar installers as a tool for drawing potential solar system designs over photos of a customer's roof, helping all parties visualize the design of a solar installation. And in 2015, Google launched Project Sunroof, an algorithm that has used 3D modeling to measure the solar power potential of US buildings. For the solar industry, Google is laying the groundwork for growth and innovation.
Google is also committed to 100% renewable energy generation by the end of 2017. As Google EU energy lead Marc Oman told The Guardian, it's not about greenwashing. "We are convinced this is good for business," Oman says. "This is about locking in prices for us in the long term. Increasingly, renewable energy is the lowest cost option."
4. Kohl's
Kohl's, one of the US's most popular retail clothing chains, is a national leader on renewable energy commitments. The chain generates an astounding 1,430,381,349 kWh of energy with solar and wind power.7 This offsets 109% of the company's energy use. That means solar and wind investments owned by Kohl's produce more power than the entire store chain consumes annually.
By the end of last year, Kohl's had over 160 solar power systems in fifteen states.8 Thanks to those arrays, and combined with the solar energy credits purchased by the chain, the company will offset the electricity equivalent of 4,123 homes and reduce carbon emissions by over 45,000 tons annually.
5. Apple
Apple remains one of the most popular companies in the world for ubiquitous products like the iPhone and iPad. Now, the California-based tech giant is moving into the renewable energy sector. Apple Energy, LLC is a subsidiary entirely devoted to selling off excess energy generated by three of its solar energy installations in six regional power markets.
Apple's recent interest in the solar energy market should come as no surprise; the company offsets 100% of its electricity with renewable energy investments,9 joining a growing number of tech companies that are offsetting huge electricity needs with green technology. So when you ask Siri for the day's weather, there's a good chance that her response could be generated by solar-power.
6. Starbucks
Like many companies, Starbucks now offsets 100% of its electricity use with renewable energy investments.10 However, Starbucks is looking to take this commitment to the next level. In April 2017, America's favorite coffee company invested in NC-47, a 149,000-panel solar installation in Robeson County, North Carolina, signaling a move away from secondary investments like renewable energy credits.11
Starbucks is "re-writing the rulebook for energy purchasing," according to a Solar Industry interview with Sam Kimmins, head of RE100, the global initiative that Starbucks and other companies have joined in an effort to expand renewable infrastructure.12 This move signals a new paradigm; more and more corporations are becoming the financial drivers behind the world's largest solar installations.
7. Walmart
Walmart is the world's largest retail chain. In fact, Walmart's $482 billion in revenue last year makes it a huge contender in its industry.13 By simply installing solar panels on the roofs of retail locations, the company is making a massive contribution to solar energy in the United States.
Walmart offsets just 4% of its total energy use with solar power.14 However, the company's footprint in the US is so large that this still accounts for more installed solar panels than any other corporation in the United States. In the top twenty-five commercial solar installers, Walmart represents one-sixth of all solar panels installed, and it has more solar infrastructure on the roofs of its stores than the entire residential, commercial, and municipal solar capacities of thirty-five states.15 With commitments to double this infrastructure by 2020, this company is certainly a driving force in the solar industry.
8. IKEA
IKEA is well-known for its modular furniture and delicious Swedish meatballs. But it's also a company to watch for in terms of solar energy. As of February 2017, Ikea offsets an astounding 317% of its total energy use with renewable energy commitments.16 That's not a typo—IKEA produces over three times its annual energy use in green power, and a significant portion of that comes from solar energy.
IKEA credits its traditional Swedish minimalism and respect for nature as the driving motivations behind this impressive commitment. The company shows no sign of slowing, either; in Seattle, Washington, IKEA installed the largest solar power installation on the roof of one of its retail stores earlier this year.17
9. Mars
Mars is the company behind America's favorite sweets: M&M's, Snickers, Skittles, Twix, Dove, Milky Way—the list goes on. The company is a national leader when it comes to renewable energy production, too. It offsets 692,038,630 kWh through renewable energy investments per year, accounting for 91% of the company footprint.18
The chocolate company's Henderson site in Nevada is 100% solar powered on a sunny day, drawing energy from a massive 4.4-acre solar installation on site,19 The company has a history of solar investments, too, as evidenced by the 18-acre, 28,000-panel installation in Hackettstown, New Jersey.20 Unsurprisingly, Mars chairwoman and heiress Victoria B. Mars says her favorite M&M color is green.
10. Capital One
Solar power represents an almost guaranteed return on investment, so it should be no surprise that America's biggest banks are getting in on the action. It's unsurprising, then, that in 2014, Capital One signed a $100 million partnership with SolarCity, the largest solar installer in the United States, in an unprecedented foray into the solar energy market.21
Capital One's investment will help bring solar power to thousands of residential homes. The company doubled down on its commitment with a promised $3.5 billion available as loans for homeowners and companies ready to invest in solar technology. Capital One's investment in solar energy is reflected in its own practices, too: the bank offsets 114% of its electricity costs using renewable energy investments.22
If you're a solar homeowner or are thinking about installing solar, you're in good company; solar energy is one of the smartest investments you can make. The companies on this list are leading the charge towards a greener future through solar power and other renewable technologies. You can help solar power grow in the United States by giving these ten companies your business. The EPA's list also includes hundreds of local partnerships, so see if your favorite local businesses are part of the solar power revolution.
---
1. EPA, "Green Power Partnership National Top 100"
2. Intel Newsroom, "Chip Shot: Intel Recognized as Nation's Top Green Power Purchaser by EPA"
3. Phoenix Business Journals, "Intel Unveils State's Largest Solar Carport Installation in Chandler"
4. EPA, "Green Power Partnership National Top 100"
5. Microsoft, "Microsoft Installs Silicon Valley's Largest Solar Panel System at Its Mountain View Campus"
6. EPA, "Green Power Partnership National Top 100"
7. EPA, "Green Power Partnership National Top 100"
8. Kohl's Green, "Renewable Energy"
9. EPA, "Green Power Partnership National Top 100"
10. EPA, "Green Power Partnership National Top 100"
11. Starbucks Newsroom, "North Carolina Solar Farm Powers New Starbucks Renewable Energy Strategy"
12. Solar Industry, "Starbucks Signals New Approach to Renewable Energy"
13. The Economist, "Thinking Outside the Box"
14. EPA, "Green Power Partnership National Top 100"
15. Slate, "Walmart Is Killing the Rest of Corporate America in Solar Power Adoption"
16. EPA, "Green Power Partnership National Top 100"
17. Puget Sound Business Journal, "Ikea installs State's Largest Solar Rooftop Array at New Renton Store"
18. EPA, "Green Power Partnership National Top 100"
19. PR Newswire, "Mars Chocolate North America Unwraps New Solar Garden at Ethel M Chocolate Factory"
20. NJ.com, "Mars Unveils 18-Acre Solar Garden in Hackettstown"
21. US Green Technology, "Capital One's $100 Million Green Investment Strikes Gold"
22. EPA, "Green Power Partnership National Top 100"