Solar Powered Billboards in San Francisco, Africa, and Canada
PG&E (Pacific Gas and Electric Company) installed the nation's first solar powered billboard at 1000 Brannan Street in San Francisco this January. Visible from I-101, the billboard, which contains 20 solar modules, can generate 3.4 kilowatts of power, more than enough to illuminate the billboard at night. The excess electricity is fed back into the grid. PG&E also changed the billboards' lights to more energy efficient LED's.
PG&E installed the billboard to promote their new campaign, titled "We Can Do This".  The campaign highlights the California utilities' commitment to the environment.  "As a leader in the fight against climate change, we're always looking for new ways to educate our customers," said Greg Pruett, senior vice president of corporate relations at PG&E Corporation. "With this solar-powered billboard – the nation's first – we increase the amount of clean, renewable energy we provide our customers. We also hope to capture the imagination of Americans about the actionable steps one can take to reduce their environmental impact."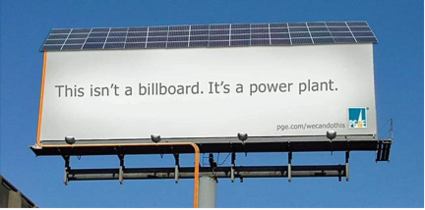 The PG&E billboard joins two solar powered billboards in Canada and two in South Africa.  Nedbank installed the world's first solar powered billboard in Johannesburg in June 2006.  The billboard supplies power to a local school.  The second billboard, erected in December 2007, provides power to a youth center in Cape Town.
For most companies, advertising is a means of creating awareness and growing a customer base. For Ned bank, it's both these things, but it's also far more. The bank that promises to 'Make Things Happen' has done just that with the recent unveiling of its second 'solar billboard' in Athlone in the Western Cape. 

The initiative follows the success of Nedbank's first solar panel billboard that generates electricity for the kitchen at MC Weiler Primary School in Alexandra Township in Gauteng. The electricity generated by the billboard feeds more than 1,400 children each day, and saw the bank scooping South Africa's first ever outdoor Grand Prix Award at the 54th Cannes Advertising Awards earlier this year. The newest billboard takes the technology a step further and combines solar panels with a wind turbine to provide much needed power and hot water to the Athlone Youth and Family Development Centre in Cape Town.
Unlike the South African and American billboards, the billboards in Canada are not connected to the grid at this time. The billboard shown below belongs to Vancity which is a financial institution in Canada that is trying to become completely carbon neutral. Learn more about their campaign at http://www.weallprofit.vancity.com/