[UPDATE] The article below has been preserved for historical records but Solar Power Authority has since partnered with the mapping resources at CarStations including their electric car charge station map and wiki system. Cruise over and check it out and share any stations near your home or business!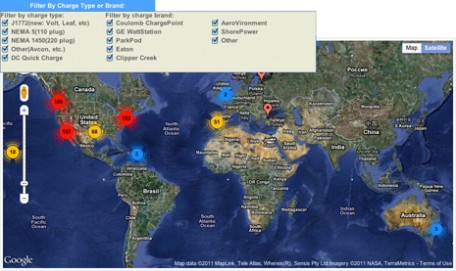 As solar energy moves our dependence on oil over to a dependence on electricity and more and more cars are produced that run on electric, hydrogen, ethanol, hybrid, and solar power people will need to know where they can plug in their electric cars! Where can I plug in my electric car? Whether it's a hybrid with a chargeable battery that relies on energy from a solar tree during your work hours or Tesla Roadster with built in solar panels, charging stations will surely be necessary.
To help people effectively find solar charging stations for their cars Solar Power Authority is actively creating a dynamic Google Map shown below. This map allows you to search by zip code and locate charging stations near your residence. However, we realize that the map will always need updating and we ask that you simply leave a comment on this page with the location of new electric car charge stations as you find them, that way we can add them to the map on an ongoing basis! Also, if you are a home owner who is willing to share your resources with fellow electric car aficionados we will list you here as well. View the full size maps with more features Electric Car Map, Hydrogen Car Map, Biodiesel & E85 Car Map
Some of the great resources we've found on the web that map out this type of thing in a similar way include the following, our goal here is to make one comprehensive map that is easy to navigate and use. Direct collaboration is also welcome and we will happily invite you to add to this public google map if you simply leave a comment here (we will use the email address you use to comment with, it must be a Google ID).