Solar Panel Leasing Review and Company Comparison
The concept of leasing solar panels was covered here previous in an article titled, "How Do Solar Panel Leasing Programs Work?". Since then, many businesses have stepped up to provide new leasing models and opportunities for homeowners across the country. New partnerships and businesses mean more competition and better yet, more chances to save for consumers. In this article we'll dive in for a closer look at solar leasing companies with a mini review for each along with comparisons.
With the potential upfront cost of solar panels in the thousands, the notion of a business that could install a set on your roof for only a monthly rate may seem outrageous. If you're the one saving money on your electric bill, how do these companies even make money? In short, solar leasing companies profit by taking advantage of the federal tax incentives given to owners of residential solar electric technologies. Installing certain solar technology in residential applications grants the owner as much as 30% personal tax incentive from the federal government. Solar leasing companies will take take this and sell it to other companies, like banks, who in turn provide them with the capital needed to install and maintain additional solar equipment. In addition to this, solar leasing companies buy equipment in bulk, allowing installation at lower costs than most individual systems, leveraging economies of scale. What this means is that while it may take one customer 20 years of monthly leasing fees to equal one solar installation, the leasing company pays less for the equipment and may see profit after only 15 years. In addition to installation, the sale of tax credits also pay for supervision and maintenance of each system, meaning the homeowner will never have to worry about repairs or updates.
In the recent past, monthly rates were locked in for many leasing programs, currently few companies will make this guarantee. However, while you may see a rate increase in your solar leasing bill, it will always be significantly less than the increase you'll note in your electric bill. So while your electric bill increases by 6%, your solar leasing may only increase by 2%, meaning you are still saving on your overall power bill by using solar.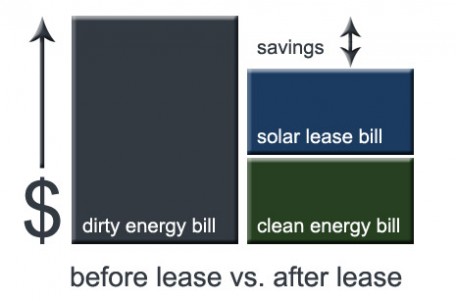 If you think solar leasing is the best approach for adding solar to your home, below a list of some of the companies currently offering this service. No individual company is best for everyone – consider your home's size, location, power usage, climate and finally price when choosing which is best for you. Also keep in mind, many of these companies are regionally exclusive, so look for the best available to you.
Sungevity http://www.sungevity.com/
Sungevity is a partner of Kaco New Energy USA and has become one of the most common names in solar leasing. According to their own map of availability, Sungevity is available in parts of California, Arizona, Colorado, Maryland, Washington DC, Delaware, New Jersey, New York and Massachusetts.
Also, Sungevity has recently partnered with Lowe's for greater accessibility to customers in the states listed above. Customers will have in-store access to quotes and answers to all of their questions.
Solar City http://www.solarcity.com/
Solar City has made headlines recently when it was announced in June that Google had invested $280 million in the company, the largest of its kind to date. Solar City extends service to Arizona, California, Colorado, Hawaii, Maryland, Massachusetts, New Jersey, New York, Oregon, Pennsylvania, and Washington, D.C.
Also, for my friends in Texas, Solar City and TXU have recently announced a partnership with Solar City full of incentives to provide solar leasing to the lone star state.
Connecticut Solar Lease http://www.ctsolarlease.com/
Connecticut Solar Lease is a solar leasing program exclusively for Connecticut homeowners. To meet the qualifications, a household's income must be within limitations as set by region and meet acceptable credit and debt levels. These qualifications are carefully outlined on their website, which can be found by following the link above.
SunRun http://www.sunrunhome.com/
SunRun is another nationwide company providing service to nine states: Arizona, California, Colorado, Hawaii, Maryland, New Jersey, Oregon and Pennsylvania. If your state isn't listed, they have a brief online form and YouTube video on their website with instructions on how to get SunRun in your state, both are found at this link.
SunPower http://us.sunpowercorp.com/
The SunPower Lease is a program available in Arizona, California, Colorado, Hawaii, Massachusetts, New Jersey and New York and Pennsylvania, and also boasts an early buy-out option that allows homeowners to purchase the system, namely to increase a home resale value. On August 2, 2011, SunPower accepted a $105 million fund from Citi to expand their leasing program. With this additional funding from one of the world's largest financial service, expect to see substantial growth and expansion from SunPower in the future.
Solar Universe http://www.solaruniverse.com/lease
Solar Universe is another company with goals of expansion and a history of funding from RockPort Capital. Solar Universe began operations in California but has expanded eastward and into the North East.
SunEdison http://homesolar.sunedison.com/solar_lease.php
SunEdison is a leading solar energy provider on the global stage and a subsidiary of MEMC Electronic Materials. As a solar leasing provider, they assure that their experience in solar production carries over to provide experienced installation and maintenance with the latest in solar technology.
Centrosolar http://www.centrosolaramerica.com/
Centrosolar's leasing program is a relatively new program available in Arizona, California and New Jersey. Announced July 10, 2011, the leasing program was developed in collaboration with Brightgrid http://www.brightgrid.com/, which is another solar leasing company founded in 2009 and serving the California community.
As you compare different companies, be sure to conduct your own search for local options which could be more specialized to your needs, and read our guide to choosing a solar panel installer. For quotes specific to your home, many of these companies provide a free, online form for an instant quote. Lastly, for a local contractor quote on a personal solar system, use Solar Power Authority's solar quote tool.