Massachusetts Solar Energy Resources and Incentives
Note, this article was previously published at https://www.solarpowerauthority.com/home-solar/ma/ that article has been updated and refocused, visit the page to learn more or read on for older resources.
Incentives and Rebates
Statewide
Recently, in November of 2007, Massachusetts passed the Green Communities Act of 2007, which aims to give incentives to private citizens, businesses and corporations, and municipalities to invest in energy-saving technologies like solar-power. Under this bill, the Department of Clean Energy was also created, which was formed to oversee the success and continuation of the ideas set into motion back in 2007.
Property Tax
According to Massachusetts law, citizens who employ solar-energy systems as their main or back-up power system, whether it be to heat their taxable property or to provide any other kind of energy for their taxable property (house, yard, garage, shed etc.), can be exempt from local property tax for a length of twenty years. This Massachusetts state incentive solely applies to the added value to the citizen's property by a specifically eligible system (as set by the Massachusetts Department of Energy Resources–DOER) http://www.state.ma.us/doer
Sales Tax
State law of Massachusetts also exempts any equipment that directly relates to any solar powered system that is being used for the main or secondary power for the citizen's primary residence in the state–and this includes heating and any other kind of energy that is solar powered–from the Massachusetts sales tax. http://www.state.ma.us/
doer/programs/renew/renew.htm#taxcred
Patent Exemption
The state of Massachusetts also allows citizens who receive income from selling a patent or receive royalty from a patent that the state declares "beneficial for energy conservation or alternative energy development" to deduct these forms of income from their income tax. To see if your patent is eligible for this deduction, contact the Massachusetts commissioner of energy resources. This incentive is different from all of the other incentives because it rewards an intangible idea, or intellectual property, rather than "real" property.  http://www.state.ma.us/doer/programs/renew/renew.htm#taxcred
Corporate
In Massachusetts, corporations are allowed to deduct expenditures due to the purchase or installation of any solar- or wind- powered unit or system, including climate control systems and heating systems, from their net income. This deduction can also include labor expenditures when installing the system. According to DSIRE, the Database of State Initiatives for Renewables and Efficiency, http://www.dsireusa.org , the system or unit must be used exclusively for the business itself, not personal use, and the unit must be located in Massachusetts. This also allows for a tax exemption: "[any] unit that qualifies for this deduction will not be taxed under the tangible property measure of the state's corporate excise tax."
MassSAVE
http://www.masssave.com/about/heat_loan.php
MassSAVE, which deems itself "a residential conservation services program administered by Massachusetts electric companies, gas companies and municipal aggregators," proffers a nice incentive of 0% interest financing to aid private consumers in increasing the energy efficiency of their houses. This HEAT Loan Program is up for grabs to any residential customers who live in a 1-4 family home, who purchase the power for their house from one or more of MassSAVE's participating companies, and who, through the MassSAVE Program, go through a Home Energy Assessment. If customers pass these requirements, they can choose one of two options; either applying for a no interest loan, or receiving various (applicable) MassSAVE Program Rebates for whatever system the customer has installed in their domicile. These loans can range from two to ten thousand dollars up to ten years. The HEAT Loan specifically declares solar hot water systems as eligible, but also addresses these other energy savers as loan-eligible: Attic, Wall, and Basement Insulation, High Efficiency Heating Systems, High Efficiency Domestic Hot Water Systems, Energy Star® Windows, and Energy Star® Thermostats. Finally, these energy-efficient improvements must be at or beyond efficiency standards set forth by the MassSAVE Program, and personal or "DIY" installations of these improvements will not qualify for the loan.
Commonwealth Solar
http://www.masstech.org/solar
Commonwealth Solar began at the beginning of 2008 by the Massachusetts Technology Collaborative (MTC); it is a four-year, 68 million dollar program that tries to encourage installations of solar or photovoltaic (PV) systems across the state of Massachusetts. Of the 68 million dollars that came jointly from the Massachusetts Renewable Energy Trust ($40 million) and the Alternative Compliance Payment from the Massachusetts Department of Energy Resources ($28 million), the program intends to save 16 million dollars to fit Massachusetts public buildings with solar power and at least 8 million dollars is to be saved for photovoltaic installations on homes. Massachusetts predicts a total of 27 megawatts in photovoltaic projects to be completed over the four-year period.
Commonwealth Solar offers rebates "for the installation of grid-tied photovoltaic (PV) systems at residential, commercial, industrial, institutional and public facilities." The size of these rebates depends on the size of the photovoltaic unit or system in question, but other aspects of the individual project may also affect the amount of the rebate. Minimum size of the photovoltaic project is 1 kilowatt (DC). Rebates are limited to 100% of total installed costs or on a max system size of 5 kilowatts (DC) even if the system exceeds that size.
Rebate sizes for residential photovoltaic systems are currently:
Base incentive: $2.00/watt
Adder for Massachusetts company components: $0.25/watt
Adder for moderate home value: $1.25/watt
Adder for moderate income: $1.00/watt or $2.00/watt, depending on income level
An energy-efficiency audit is strongly suggested when installing these systems.
Chicopee Electric Light
http://www.celd.com
With Chicopee Electric Light, customers (residential) who take the initiative to install solar photovoltaic systems on their homes or garages can get rebates for their energy-efficient actions. These residential customers are able to receive rebates at $2.50/watt, maxing at $5,000/installation. Rebates are also capped at the first 15,000 watts that are installed each year.
National Grid
http://www.thinksmartthinkgreen.com
National Grid (residential) customers who utilize specifically eligible SHW units may submit an application for a rebate that cuts fifteen percent off any solar system project expenses. This rebate maxes at $1,500 for solar water-heating systems. There is one extra requirement: National Grid asks any residential customers who apply for the rebate to disclose their personal water heating usage data for one year for data and survey purposes, if they wish to get the rebate.
Harvard
Harvard campus in Massachusetts has looked toward educating their students on solar-power and other energy alternatives through the Green Campus Initiative. http://www.greencampus.harvard.edu/cre/solarthermal.phpThe campus has certainly kept its promise to the Green Campus Initiative, and has installed several photovoltaic systems on campus, including
HBS Shad Hall PV- 36 kW, 192 panels. Installed in 2003.
Harvard Forest PV- 10.2 kW, 60 panels. Installed in 2007.
Science Center lamp- 2kWh of electricity per day.
Science Center Thin-film PV- 10 kW. Installed in August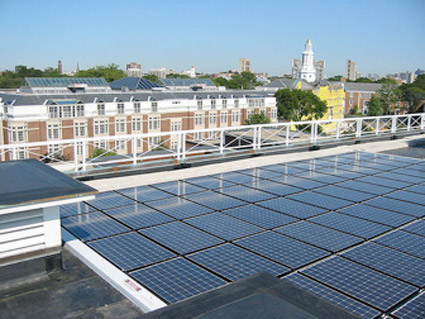 The Harvard School of Public Health Renewable Energy Commitment has also bought renewable energy alternatives that have offset ONE HALF of the university's electricity use for the third year in a row. http://www.greencampus.harvard.edu/lgci/renewable.php
And to make sure that Harvard ranks #1 among universities buying renewable energy resources, the president of Harvard recently set forth a three hundred thousand dollar Renewable Energy Fund to help the university make leaps and bounds when it comes to decreasing their carbon footprint on the world.
Harvard communities also offers the Harvard Solar Advantage, where people can buy homes from their architect collection–where every home is fitted with solar-energy teachnology. Your Harvard Solar Advantage home will qualify you for a one-time $2,000 federal tax credit. To find out more, visit www.harvardcommunities.com/solaradvantage.php
Businesses
There are many businesses that sell solar energy systems and products in Massachusetts, and we have included several of them below. To add your listing or update information please contact us. This article originally appeared at Solar Power Authority.
Advanced Energy Systems Development, LLC – 617 775-1720
Alternative Energy Store – 877-878-4060
ATC Energy Management – 508 410-1799
Boston Solar Living, Inc. – 617-787-6527
Central New England Solar Store – 508.832.4344
Clean Energy Design – 508-428-5616
Cotuit Solar – 508-428-8442
Enviro-H.V.A.C. – 508-566-1544
Nelson Mechanical Design – 508-696-3120
New England Breeze – 978-567-9463
New England Solar Electric Inc. – 413-238-5974
New England Solar Hot Water – 781-536-8633
NexGen Energy Solutions, LLC – 978-688-2700
PowerBees, Inc. – 617-852-3888
Practical Solar, Inc. – 617-464-1770
Real Time Conservation – 508-743-9778
Renewable Energy Systems LLC – 781-545-3320
Solar Works, Inc now Altaris – 800-339-7804
SolarFlair Energy, Inc. – 508-293-4293
Solar Innovations – 978-394-3555
Solar Tech Solutions – 617-264-4479
Sun Energy of the Berkshires – 413-447-7658
Sun Tech Solar Service – 413-665-4100
Sunshine Solar Technologies – 631-615-4440
Vaughn Manufacturing Corporation – 978-462-6683
Village Plumbing – 508-636-9080
Education
The University of Massachusetts at Amherst offers courses in solar energy in the Mechanical and Industrial Engineering Department. www.ecs.umass.edu/mie
The University of Massachusetts at Lowell also offers courses in solar energy in their Mechanical Engineering Department. http://energy.caeds.eng.uml.edu/