EarthRoamer Xpedition Vehicles Using Solar Panels for Auxiliary Power
EarthRoamer has begun production of its second Xpedition Vehicle called the XV-JP. This model is based on a Jeep Wrangler Unlimited and comes in at a lower price point with fewer "luxury" features than it's predecessor the XV-LT while also introducing a solar power unit to power its built in refridgerator.
The Earth Roamer company first made a name for itself in the expedition vehicle world with the introduction of it's XV-LT in 2002. Based on a Ford F550 pickup chassis, the XV-LT is equipped like a luxury RV, with the off-roading capabilities of a 4×4. Even considering the downgraded accommodations of the Jeep version, either of these two vehicles would make the perfect "end of days" escape vehicle – for anyone who might be paranoid about the overcrowded city they live in and that tall mountain pass holding everyone with a Honda Civic (and their one foot ground clearance) back from escape… It would also be fun for camping of course!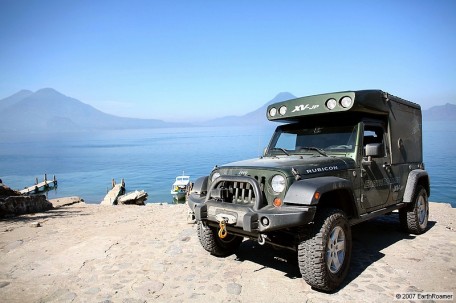 Adding to the allure of a "living room on wheels" that any RV or VW bus might similarly offer are the extreme off roading capabilities built into every EarthRoamer. Both models are completely powered by diesel which serves to run the stove (in the XV-LT version), and heat the water you'll be using. Simplicity is something you want when you're way out in the middle of nowhere on an adventure, and the XV-JP delivers with a queen sized bed in a fold out tent pop top. This model has even been tested on the legendary Rubicon Trail and survived as the first camper ever to make it through. The XV-JP is also one step closer to off the grid nomadic living with the addition of an 80 watt solar panel on the front of it's overhead living space. These panels only provide enough electricity to keep the fridge cold, but it's a step in the right direction, and if biofuels were being used you could leapfrog your way across the entire nation going from McDonald's to Wendy's to Burger King without spending a dime on diesel. Actually, we contacted the company about the use of biofuels and they said "The vehicle can use biodiesel which is available commercially at fuel pumps throughout the country… but that it is NOT designed to run on raw veggie oil" more info and a map of US fueling stations can be found here.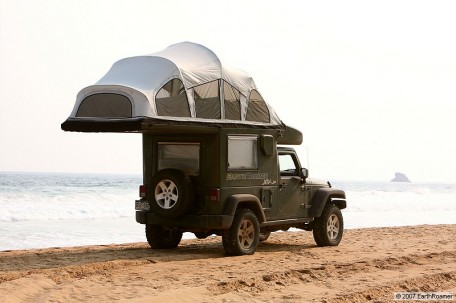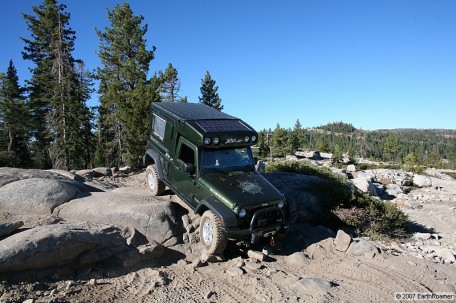 In June 2007 Car and Driver did an article entitled "10 Vehicles for the Apocalypse – If the end is nigh, what are you going to drive?" and we here at Solar Power Authority feel they may have missed one vehicle… the EarthRoamer of course. However, in this case we might have to forgive them because the Jeep Wrangler Unlimited Rubicon was included (in its stock form) and with the additions outlined here we think it might have ranked even higher than 5th place on their list. More apocalypse style vehicles can be found at Wired Magazine online here.
EarthRoamer was started in 2002 by two friends from the UCLA MBA program. One of them was an avid nature photographer and needed a way to reach extreme locations to get his perfect shots. Both he, and the other founder subscribe to the tread lightly and leave only footprints philosophy and claim to use renewable energy sources like biodiesel and solar whenever possible when they're on the trail. As thin film solar becomes even more efficient and flexible in it's application we hope to see EarthRoamer hybrid models that can charge Lithium battery cells capable of powering short day trips from base camp. As any wildlife observer knows, a quieter mode of transportation will always yield more intimate encounters and EV's would definitely provide that.
With a no-options sticker price of $110K the XV-JP isn't cheap, but it's built in overhead safari lights, electronic 4 wheel drive and sway bars system, aftermarket off road parts, and water storage, combined with ethical company mission and solar electrical generation features certainly make it tempting! The larger XV-LT model is available at a base price around $200,000 with well optioned rigs at about $240,000